Our mission is to design sustainable and eco-responsible projects that offer a complete lifestyle experience
We embrace diversity in real estate and people
We are committed to maintaining the highest standards of quality
Commitment to excellence and personal integrity
Our ambition is to imagine and design innovative projects that put people at the heart of the multicultural cities of tomorrow
Adam Real Estate is a private Canadian company engaging primarily in real estate development and asset management in the National Capital Region of Canada. The company drives its strength from its 30 years' experience in real estate, the quality of its dedicated team members, and the long-standing relationships it enjoys with its clients and the key real estate players in the region.
With more than 400 employees through its subsidiaries and affiliates, Adam Real Estate owns a portfolio of commercial and residential buildings across the National Capital Region, and an inventory of strategically located lands on which will be developed more than 2000 residential units and one million square feet of commercial space.
Throughout the years, the company is proud to have actively participated in public and institutional development projects, such as La Maison de la Culture, a landmark visual arts and performing center in the city Gatineau that also holds an exhibition gallery and the city library.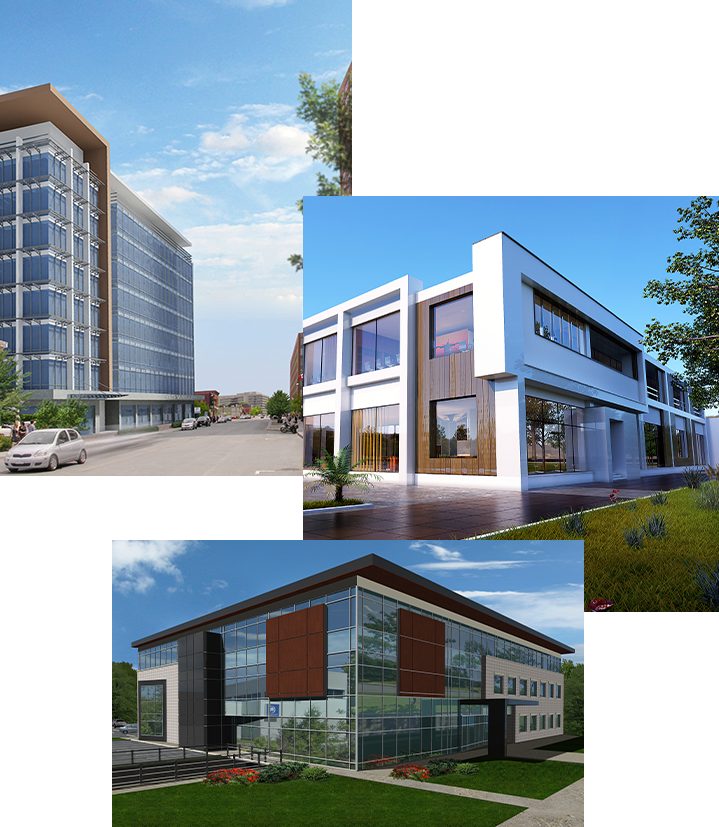 What We Do
Adam Real Estate is renowned for its real estate development and asset management capabilities in Ottawa, Gatineau, and surrounding communities. We get to know our clients and develop strong connections with them in the lead-up to a project, ensuring results that leave a lasting impression and continue to wow.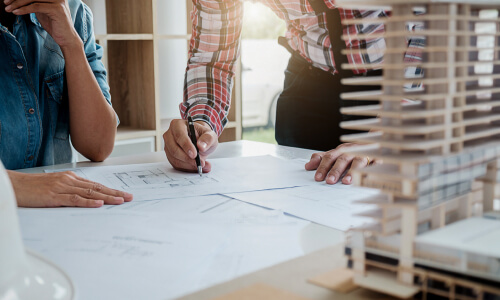 Development
From that first sketch to developing a comprehensive concept, budgeting, sourcing and more, we leave nothing to chance and take pride in every milestone. Adam Real Estate is home to creatives deeply passionate about making their mark while ensuring practical, highly effective solutions that meet client needs and wants.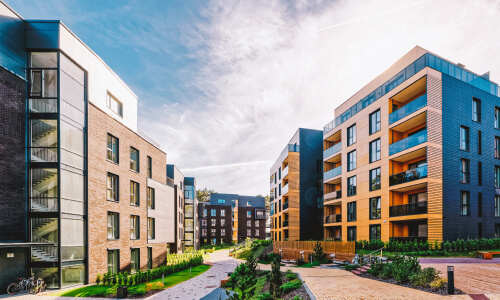 Construction
Each weld, rivet, joint, and brushstroke impacts the overall results we deliver to our clients. Therefore, the construction phase of our work is handled with attentiveness with the most trusted, reputable, dependable, certified, and quality-driven professionals. In addition, we prioritize an environmentally-conscious and sustainable series of processes to ensure as little of an impact on the world around us as possible – now and in the future. In that sense, we offer clients a complete lifestyle experience overhaul with more modern, appropriate, and eco-friendly surroundings.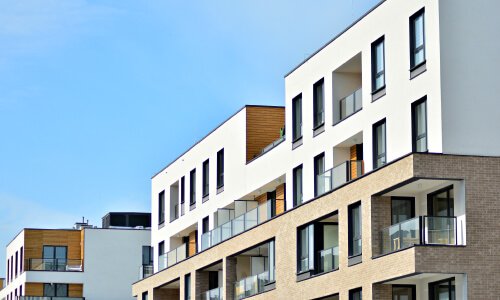 Asset Management
From initial consultations and those first sketches to move-in day and managing tenants, Adam Real Estate is with you every step of the way. Our asset management services know no bounds, harnessing decades of collective experience in planning, construction, and day-to-day operations managerial tasks. When issues arise, we resolve them with professional decorum, proactivity, data-driven decisions, and a focus on the needs of tenants and owners.
As a longstanding master of your craft, you have made an enormous contribution to the exemplary success that the Maison de la culture enjoys today. Were it not for your work, Gatineau residents would be unable to enjoy the large-scale shows staged here. The Maison de la culture and its Salle Odyssée, whose productions have garnered numerous Félix awards, are now a prime destination for many performers. Please know how much I appreciate the role you played in making this project a reality.
- Marc Bureau, Mayor of Gatineau
I had the pleasure of working with Alain Adam on some large, high-profile files…on the management of leases on a multi-billion-dollar portfolio of buildings with demanding clients in a fast-paced environment. The integrity and professionalism of his work was unquestionable. It was a pleasure working with him.
- Paul Barrette, Senior Counsel, Legal Services, Public Works and Government Services of Canada
We wish to express our appreciation to you as our landlord. We have been very pleased with the professionalism you have demonstrated in managing this great property and the exceptional quality of your services. Your management team has been readily available to respond to any of our requests. Once again, thank you for your attention to detail and if the opportunity arises to pass the letter to a prospective tenant, I would welcome the opportunity to recommend, not only your organization as great landlord/management company, but in particular, your outstanding skills. Keep up the great work!
- Mary Wathen, Chief Operating Officer, Cassidian Communications, an EADS North America company
Your respectful approach to renovation work, together with your good taste, eye for detail and building maintenance skills, all demonstrate your commitment to your tenants. You have been very attentive to our needs and we are pleased to have extended our business relationship with you.
- Edith Gagnon, General Manager, RE/MAX Vision (1990) Inc.
In the years I have worked with you and your team I have developed an enduring respect for your work ethics, dedication, motivation and the values that you have conveyed upon all of us. Undeniably, your ability to work during stressful, challenging and complicated projects has ensured and positively contributed to the profits and success of our business ventures…I have witnessed your skills and you're team's remarkable talents…it was always and will remain a pleasure working with you.
- Tamim Rawashdeh, Vice-President, Limbour Investment Management.
Adam Real Estate has always treated us with professionalism and courtesy. They keep their promises and come up with winning strategies designed to meet our needs effectively. Adam Real Estate's expertise, efficiency and the high quality of its teams attest to its unwavering commitment to offering its tenants the very best client experience.
- Shan-David Beaulieu, President/CEO, Services Financiers Beaulieu, authorized Sun Life Financial distributor
Your company, management team and employees all operate with a high level of integrity and professional ethics. Your buildings are very well maintained and your services have always lived up to our expectations. We are pleased to be one of your tenants and would like to express our gratitude for our exceptional business relationship.
- Daniel Larabie, President/CEO, Physio du Plateau
We have been a tenant at Adam Real Estate since 2015. As our needs for office space grew over time, you were always able to accommodate us. Your buildings are grounds are very well maintained. There is comfort in knowing that when issues arise, we always have someone who is available, friendly and helpful to discuss our concerns. Alain, please extend our appreciation to your team for its prompt and proactive service.
- Kelsey Cuddihy, HR & Operations Manager, LightBend Inc.
As a MosaïCanada 150 partner, we would like to thank you for the support and exceptional service you provided in welcoming the employees and teams that needed accommodation during the exhibition set-up. Among other things, your personalized service enabled us to bring in more than 100 welding artists and horticulturalists from China. We are grateful for the openness you showed when tailoring your services to our guests' home culture. We would also like to recognize your staff and their exemplary courtesy.
- Johanne MacKay Falcon, Eng. M.B.A., Assistant General Manager, MosaïCanada 150